When I feel overwhelmed and whiny,
When my complaints out number my praises,
When I cannot face my daily chores and pout,
When my sinful flesh takes the lead, and my self-control takes a nap
He always sends me a story, a reminder, a kick in the pants
Something to make me feel small, petty, ungrateful
Something to make me feel loved, blessed, joyful
That I am His child, saved by Grace, through no work of my own
What Works For Me this week is this video. Its timing was providential, as usual.
This was grace - short film from Andrew Laparra on Vimeo.
Linked up to Works For Me Wednesday over at We Are That Family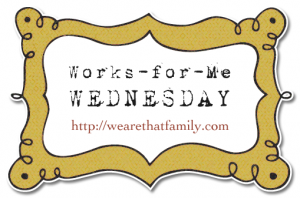 Also, linked up at Women Living Well